Minimaliseren met Marieke
Cijfers uit Nederland heb ik niet maar wist je dat een gemiddelde woning in de USA zo'n 300.000 items heeft?
Driehonderd-duizend spullen, wow.
Ik vraag me af welk percentage daarvan ook echt regelmatig wordt gebruikt.
We hebben ze allemaal: spullen die we al jaren niet meer gebruikt hebben.
Ooit gekocht omdat we dachten dat dit ons leven een stukje aangenamer zou maken. Ze liggen inmiddels ergens onder in een kast of la, ze zijn vergeten.

Al deze vergeten spullen maken ons leven niet beter, ze vertroebelen het juist.

Een van de bezwaren die je bij het opruimen kunt tegenkomen is:
Stel dat ik dit ooit nog eens nodig heb?
Zet daar eens een andere vraag tegenover.
Welke vraag dat is?
Ik vertel het je in de video, klik op onderstaande afbeelding.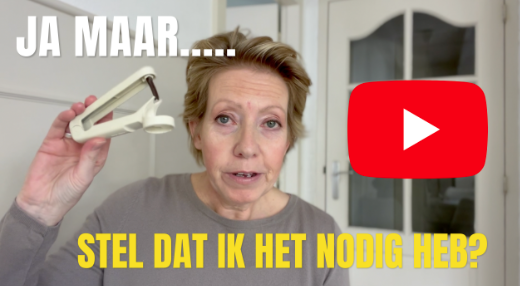 Ik ben benieuwd: heb jij een voorbeeld van iets dat je niet of nauwelijks gebruikt en dat je kunt wegdoen?
Wat zou je in plaats daarvan gebruiken?
Leuk om dit in een reactie onder de video te lezen.
Vind jij dit blog waardevol?

Leuk om een reactie van je te lezen, laat deze gerust achter!
En je kunt dit blog delen in jouw netwerk, dankjewel daarvoor.
Heb je een vraag?
Ik help je graag verder in een nieuw blog, stuur me een berichtje!
Kijk ook eens op mijn Youtube kanaal voor meer tips en inspiratie.